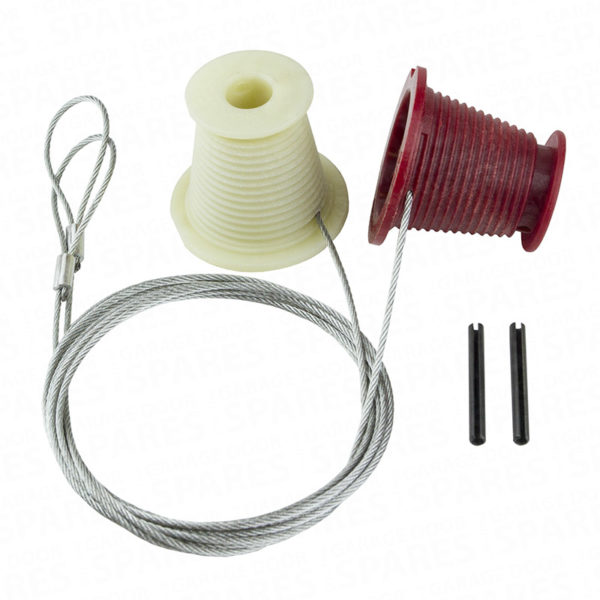 Cardale Pattern Cones and Cables – Old Overhead Gear
£27.00
Cardale cables
Pre CD45 gearing with flat bar lifting arms
Pairs
Available
Description
Cardale Pattern Cones and Cables – Old Overhead Geared Doors (Pre CD45)
A pair of premium quality cones and cables to suit all Cardale pre CD45, overhead torsion sprung canopy garage doors. These garage doors are easily identified as the spring is mounted above the door and has a square ended plastic spring adjuster and the door arm is made of flat steel bar as opposed to the later round steel rod found on CD45 overhead torsion sprung doors.
Our cones are made to match the original part and should not be compared to inferior "generic" products available elsewhere.
Supplied in pairs including roll pins and tension retaining pin.
Geoff Feldwick
13. April, 2021.
Answered my online question promptly and fully. Used free standard delivery which was delivered the next day after ordering. Great service, highly recommended
Mr Colin Gibbard
8. April, 2021.
Efficient service and order arrived promptly. The only area that could be criticised was the lack information regarding expected delivery date.
Stuart Lee
8. April, 2021.
Great product ,great price , great service , Thank you
Alistair Thompson
6. April, 2021.
Easy process throughout. Website easy to use , clear description, no fuss ordering process and delivered quicker than expected!
Parts arrived promptly, roller guides fitted well & cables correct length. Very pleased as door now operating great, thought would have needed a new door before .
Very efficient & reliable, delivery of spare quick.
James Baker
1. April, 2021.
The item I bought was correct, sent on time altogether a first class service. Thank you.
douglas howes
29. March, 2021.
Great service, the gentleman talked me through the model I needed. It arrived and tuned it into the garage door electrics easily. More Robust than the original fob. Thank you Doug.