Filuma
In this section, we have listed a range of spares for domestic Filuma Sectional Overhead Garage Doors, all of which can be supplied from stock usually on a next day delivery basis.
Originating in Canada and the United States these doors were marketed in the UK from the early 1970's until the late 1980's under the Filuma brand name in addition to Bolton Filuma and Apex Filuma brands – all utilise the same spare parts.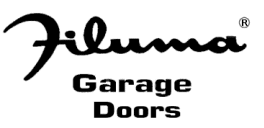 Two kinds of Filuma door were made, the traditional translucent fibreglass models in a variety of tinted colours and the stipple finish aluminium models sold under the Apex Filuma brand.
Please select the part you require from the listings below. These are not stock items so need to be ordered with a lead time of 4-5 working days.
Pair of Springs for up to 9ft wide door

This is not a stock item so will need to be ordered with a lead time of 4-5 working days.

Springs for up to 9′ wide
Suits Filuma domestic sectional garage doors
Pair

£

114.00