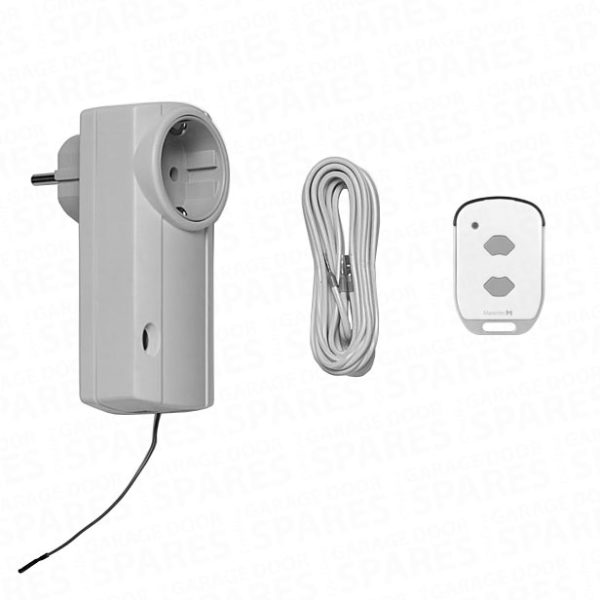 Marantec Digital 371 868MHz Socket receiver (Impulse Type)
£94.80
Coming Soon!
Description
An 868MHz Socket Receiver that provides impulse switching of any garage door opener fitted with a pushbutton or keyswitch that has obsolete radio controls or controls in need of upgrade.
The unit. which contains a Marantec 868MHz radio receiver. simply plugs into a conveniently located 13amp socket and the socket on the unit remains available for use. thus not causing you to lose the use of the original 13amp socket.
The unit has a prewired 1.5 metre two wire lead which is simply connected to the pushbutton/keyswitch terminals on the operator`s motor head or alternatively. it can be wired directly into the back of the pushbutton or keyswitch if more convenient.
Please ensure that you also purchase Marantec 868MHz remote handsets of your choice listed elsewhere in this section to complete the kit.
See other listing in this section for a similar unit that provides remote switching of lamps and appliances.
Application
'Impulse'
For easily retrofitting operators from other manufacturers to Marantec hand transmitters and/or to update the radio frequencies
Connecting cable for external switch
Package
Impulse socket receiver
2-core cable (1.500 mm)
Connecting cable for external switch. 2 core
Technical details/specifications
Measurements (WxHxD) – 50 x 120 x 75 mm
Weight – 0.15kg
Nominal voltage – 230/250 V AC. 50/60 Hz
Power consumption – Approx. 30 mA
Protection category – IP 20
Range of temperature – 10°C to +40°C
Cabling – conventional to the operator
Great service, swift delivery and everything worked perfectly straight out of the box. Replacement Novoferm unit for a previous model of the same manufacturer. Slightly longer track so a little bit of adjustment but no problems. New unit is quieter and faster than the old. Simple to set up with the new fob able to map to my second door (old motor still going strong).
Perfect no problems at all easy to install job done 👍😀
Geoff Feldwick
13. April, 2021.
Answered my online question promptly and fully. Used free standard delivery which was delivered the next day after ordering. Great service, highly recommended
Mr Colin Gibbard
8. April, 2021.
Efficient service and order arrived promptly. The only area that could be criticised was the lack information regarding expected delivery date.
Stuart Lee
8. April, 2021.
Great product ,great price , great service , Thank you
Alistair Thompson
6. April, 2021.
Easy process throughout. Website easy to use , clear description, no fuss ordering process and delivered quicker than expected!
Parts arrived promptly, roller guides fitted well & cables correct length. Very pleased as door now operating great, thought would have needed a new door before .
Very efficient & reliable, delivery of spare quick.
James Baker
1. April, 2021.
The item I bought was correct, sent on time altogether a first class service. Thank you.