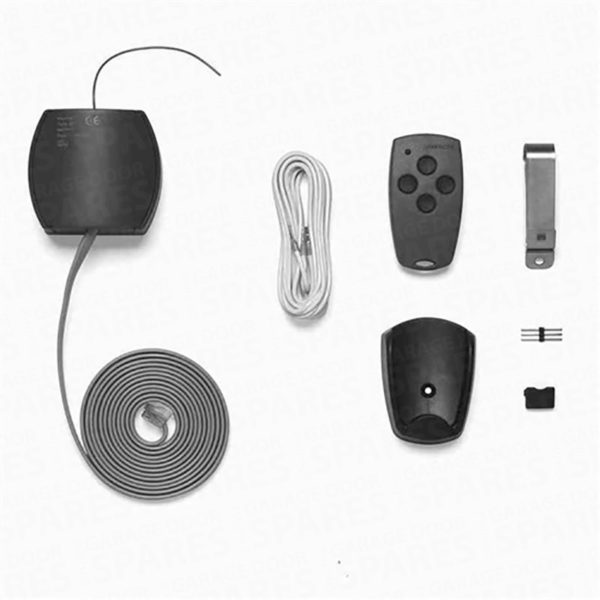 Digital 343 – Retrofit 868MHz Frequency Upgrade Kit (System Cable)
£145.20
Available
Description
Retrofit Kit Digital 343
A receiver and transmitter kit for upgrading older Marantec 27 MHz and 418 MHz systems. for which handsets and receivers are in most cases obsolete. to the latest 868 MHz frequency.
PLEASE NOTE: Any existing working handsets. operating on either 27 MHz or 418 MHz. that you still have will not work with this upgrade kit and replacements will have to be purchased.
Article
Retrofit kit
868 MHz Multibit
Package contents
Digital 343 universal receiver. 2-channel
Pre-cabled with system cable (2.100 mm)
Digital 304 Mini hand transmitter. 4-channel
3 V button cell. CR 2032
Coding plug
Wall support
Visor Clip
Function/application
Potential-free impulse/switch function
For retrofitting the frequency without plug
For all Marantec operator systems
Technical details/specifications
Measurements (WxHxD): 70 x 63 x 34 mm
Nominal voltage: DC or AC 12 – 24 V
Power consumption: Approx. 50 mA
Protection category: IP 20
Range of temperature: -20ºC to + 60ºC
Cabling: System cabling
Download installation and operating instructions here.
Geoff Feldwick
13. April, 2021.
Answered my online question promptly and fully. Used free standard delivery which was delivered the next day after ordering. Great service, highly recommended
Mr Colin Gibbard
8. April, 2021.
Efficient service and order arrived promptly. The only area that could be criticised was the lack information regarding expected delivery date.
Stuart Lee
8. April, 2021.
Great product ,great price , great service , Thank you
Alistair Thompson
6. April, 2021.
Easy process throughout. Website easy to use , clear description, no fuss ordering process and delivered quicker than expected!
Parts arrived promptly, roller guides fitted well & cables correct length. Very pleased as door now operating great, thought would have needed a new door before .
Very efficient & reliable, delivery of spare quick.
James Baker
1. April, 2021.
The item I bought was correct, sent on time altogether a first class service. Thank you.
douglas howes
29. March, 2021.
Great service, the gentleman talked me through the model I needed. It arrived and tuned it into the garage door electrics easily. More Robust than the original fob. Thank you Doug.