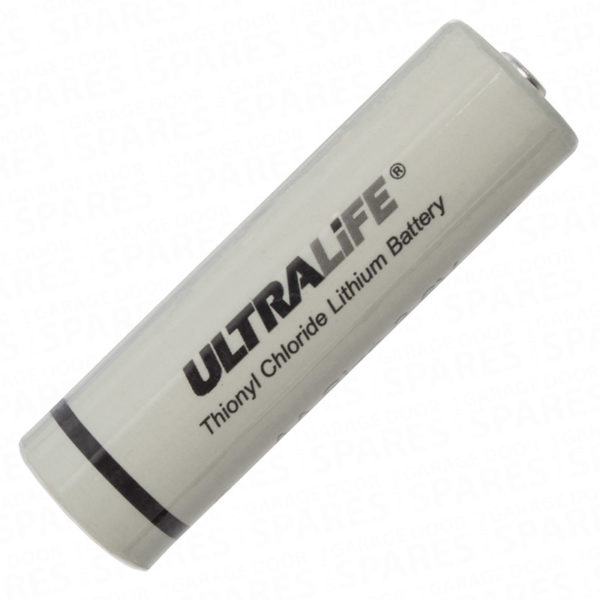 AA Roller Garage Door Lithium Battery
£10.20
Sold individually

Voltage: 3.6 V

System: Lithium Thionyl

Capacity: 2600 mAh

Dimensions: 50,5×14,5 mm (Height x Diameter)
Cell size: AA (Mignon)
Available
Description
Instruction Video
Additional Information
Reviews
Description
AA 3.6V Lithium Battery (For SWS bottom slat transmitter)
Roller Garage Door Lithium 3.6v 2600mAh Battery
Lithium Thionyl Battery
3.6v
2600mAh
Standard AA size
Ultralife UHE ER14505 – AA round cell Lithium Thionyl 3.6 V 2600 mAh.
This 2600mAh 3.6V battery from Ultralife is an extremely long-lasting battery, ideal for use with Securosense, Rollsafe, Teleco, Somfy and other wireless safety edge systems for roller garage doors. These high-quality, long life batteries are replacements for the batteries found inside the wireless device located at the bottom of the actual roller garage door. They are also suitable for torches, cameras and other electrical devices. Other features include high and stable operating voltage higher power and higher energy for the whole battery life superior drain capability and low self-discharge rate
Only 3.6v 2600Mah Lithium batteries should be used in wireless safety systems.
Watch this video for instructions on how to change the batteries in your garage door.
Watch this video for instructions on how to change the batteries in your garage door.
Features
High and stable operating voltage
Higher power and higher energy for the whole battery life
Superior drain capability
Higher power applications
Low self-discharge rate (less than 1% after 1 year of storage at +20°C)
Battery life higher than 10 years, depending on the application
Hermetic glass-to-metal sealing
Avoid leakage, key for a higher than 10-year battery life
Non-flammable electrolyte
Safer operation in case of abuse
Typical Applications
Utility metering devices & systems
Alarm and security systems
Machine to Machine (M2M) communications
Automatic meter readers (AMR)
Memory back-up
Automotive electronics / telematics
Industrial electronics
Military and other radio applications
Ultra low power devices
Sonobuoys
GPS tracking / mobile asset tracking
Great service, swift delivery and everything worked perfectly straight out of the box. Replacement Novoferm unit for a previous model of the same manufacturer. Slightly longer track so a little bit of adjustment but no problems. New unit is quieter and faster than the old. Simple to set up with the new fob able to map to my second door (old motor still going strong).
Perfect no problems at all easy to install job done 👍😀
Geoff Feldwick
13. April, 2021.
Answered my online question promptly and fully. Used free standard delivery which was delivered the next day after ordering. Great service, highly recommended
Mr Colin Gibbard
8. April, 2021.
Efficient service and order arrived promptly. The only area that could be criticised was the lack information regarding expected delivery date.
Stuart Lee
8. April, 2021.
Great product ,great price , great service , Thank you
Alistair Thompson
6. April, 2021.
Easy process throughout. Website easy to use , clear description, no fuss ordering process and delivered quicker than expected!
Parts arrived promptly, roller guides fitted well & cables correct length. Very pleased as door now operating great, thought would have needed a new door before .
Very efficient & reliable, delivery of spare quick.
James Baker
1. April, 2021.
The item I bought was correct, sent on time altogether a first class service. Thank you.