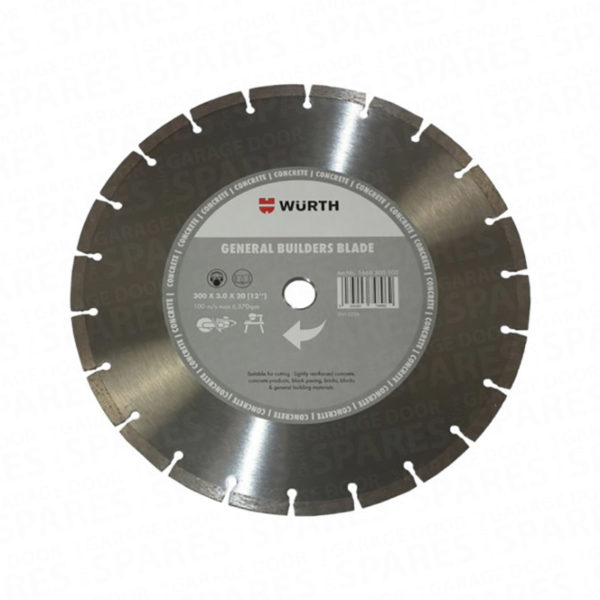 Wurth Diamond Cutting Discs
£1.49–£20.40
Diamond cutting disc for concrete. For dry and wet cutting
Description
Instructions
Reviews
Description
Wurth Diamond Cutting Discs
Diamond cutting discs are designed for straight cutting. For dry and wet cutting.
Higher cutting speed – Fan segments for better dissipation of heat and removal of dust in comparison with conventional segments. For concrete.
Diamond cutting discs become dull at excessively high speeds and wear too rapidly at insufficient circumferential speeds
If the ease of cutting decreases (indicated by heavy sparking), resharpen the disc in abrasive material, e.g. sandstone, with several cuts
Separate larger workpiece cross-sections in several sections (swing cut)
Work without pressure — the weight of the machine is sufficient. Increased pressure causes increased wear
Diamond cutting discs are designed for straight cutting. Cutting curves deforms the blade and results in core cracks and segment tear-offs — risk of injury!
Although the tool is safe, always wear protective goggles and clothing while working
Observe the information on the label (max. speed!), the restrictions of use and the safety instructions
The direction arrow on the disc must match the machine's direction of rotation
Must not be used for lateral grinding
Use the appropriate protective hood
Clamping must be performed only by a trained specialist (do not use force, use clean clamping flanges of the same size, perform a test run)
If grinding tools are clamped or used incorrectly or are damaged, they represent a danger and may cause serious injury
Geoff Feldwick
13. April, 2021.
Answered my online question promptly and fully. Used free standard delivery which was delivered the next day after ordering. Great service, highly recommended
Mr Colin Gibbard
8. April, 2021.
Efficient service and order arrived promptly. The only area that could be criticised was the lack information regarding expected delivery date.
Stuart Lee
8. April, 2021.
Great product ,great price , great service , Thank you
Alistair Thompson
6. April, 2021.
Easy process throughout. Website easy to use , clear description, no fuss ordering process and delivered quicker than expected!
Parts arrived promptly, roller guides fitted well & cables correct length. Very pleased as door now operating great, thought would have needed a new door before .
Very efficient & reliable, delivery of spare quick.
James Baker
1. April, 2021.
The item I bought was correct, sent on time altogether a first class service. Thank you.
douglas howes
29. March, 2021.
Great service, the gentleman talked me through the model I needed. It arrived and tuned it into the garage door electrics easily. More Robust than the original fob. Thank you Doug.