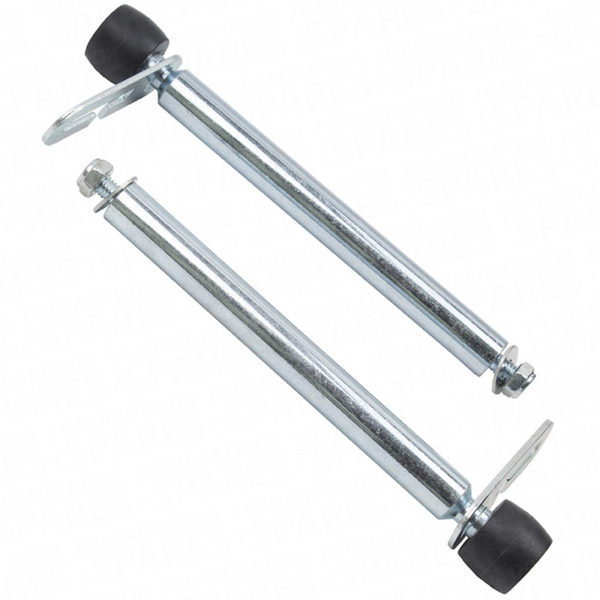 Garador Pattern S/S 4 3/4 Roller Spindles
£30.78
Suits S/S geared doors
Pair
Available
Description
4 3/4″ (120mm) S/S – ROLLERS & SPINDLES
A pair of premium quality. 4 3/4″ (120mm) canopy door rollers & spindles. to suit early two-piece Westland/Garador S/S doors. Later one-piece S/S doors will require GAS4050 3 1/8″ (79mm) rollers & spindles.
Supplied pre-packed in pairs complete with "G" brackets. rollers. two nuts and two washers.
Wheel diameter = 21mm
Shaft diameter = 13mm
Overall length = 157mm
All dimensions are approximate.
Absolutely excellent service. I ordered a garage door handle and l received it within 3 days. Highly recommend this company
Robert Dann
7. May, 2021.
Great communication, great advice, and the product was just what was required
Peter C Northampton
4. May, 2021.
After checking for spares online was not quite sure if I was ordering the right ones for my doors I got in touch with the sales team who steered me in the right direction. Parts turned up next day. Good old fashioned service what more could you want.
Carl Gibbons
3. May, 2021.
As described, good price prompt delivery. Thanks
Gerard OCONNELL
26. April, 2021.
Part supplied quickly and saved £500 on new motor.
Mrs Hickey
24. April, 2021.
The spare part arrived 3 days after I placed the order, Exactly the correct part, thought p&p was a it over the top
Mr Mike Harvey
20. April, 2021.
The plastic part which was at least 25 years old broke and after looking through their online catalogue it was in stock and arrived promptly enabling a good repair. Thanks due.
Great service, swift delivery and everything worked perfectly straight out of the box. Replacement Novoferm unit for a previous model of the same manufacturer. Slightly longer track so a little bit of adjustment but no problems. New unit is quieter and faster than the old. Simple to set up with the new fob able to map to my second door (old motor still going strong).
Perfect no problems at all easy to install job done 👍😀