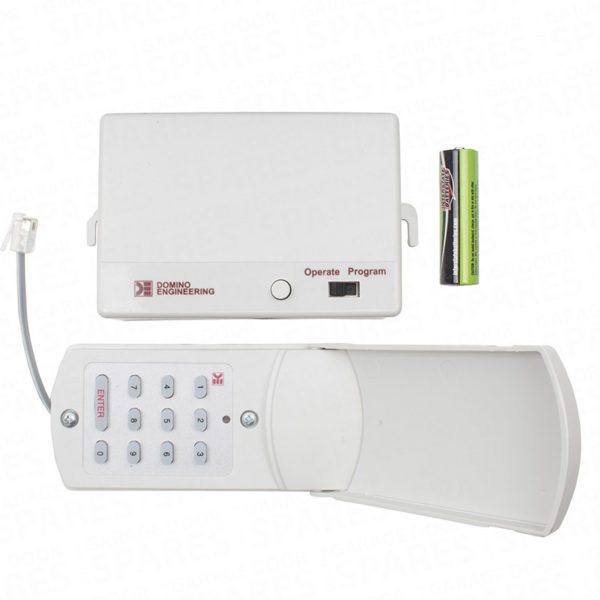 Domino Keyless Entry System
£52.20
Available
Description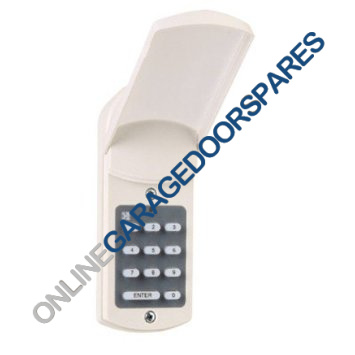 Domino Keyless Entry System
Consisting of an outside permanently mounted keypad and inside control box. the DOMINO KEYLESS SYSTEM uses a 1 to 6 digit user code. making the system as easy to program as it is to install.
Features & Benefits
Universal Use – Compatible with all garage door openers (connects to same terminals as the internal wall control pushbutton)
Easy programming – System is quickly programmed in three simple steps.
Tamper Proof – keypad shuts off for one minute after five wrong entries have been pressed.
Cutting the cable to the inside control box or "shorting" the wires will not activate the opener.
Weatherproof Flip-up Cover – Design protects the unit against the elements.
Personalised User Code – A one to six digit code may be chosen to provide up to 1.000.000 possibilities.
Back Lighting – Illuminated keypad for easy night-time operation. Additional indicator light provides verification as keys are pressed.
Low Power Warning/Battery Saver – Lights dim to indicate batteries should be replaced soon.  Special sleep circuitry conserves battery life.
Instant Stop – After code is entered and garage door opener is activated. the "enter" key may be pressed again to stop or reserve the door. without re-entering the code.  The "enter" key remains active for 20 seconds.
Additional push button conveniently located on control box allows door operation from inside garage.
Technical Specifications
Outside keypad size: Length 5″ (12.5cm): Width 2″ (5cm): Depth .6″ (1.5cm).
Inside Control Box Size: Length 3″ (7.5cm): Width 4.5″ (11.5cm): Depth 1.4″ (3.5cm)
Materials: ABS plastic; Elastomeric silicone keypad.
Electrical Input: 3 AA Duracell alkaline batteries.
Electrical Output: 1 amp dry contact relay giving a 0.3 – 3.5 second activation.
Sarah Thorneycroft
15. February, 2021.
Fast service, would use again
John Blair
13. February, 2021.
As described, parts worked, reasonable value
Richard
12. February, 2021.
Excellent service and delivered on time. I didn't speak to the staff as the website explained in detail all I needed to know.
Christopher Thomas
12. February, 2021.
Very pleased with major repair to fix broken spring. All parts fitted and instructions easy to follow. Door now operates like new
Gary Morris
12. February, 2021.
Great service all round. Easy ordering process. Quick delivery.
Avril Perriman
12. February, 2021.
Excellent service. Answered my query promptly and recommended the part we needed. Ordered and paid very easily with part being received the next day. Would certainly use again if needed.
Brian 70+years
9. February, 2021.
Hi I couldn't fault my experience from start to finish excellent speedy and would certainly use again ⭐️⭐️⭐️⭐️⭐️
Kostas Christou
8. February, 2021.
I ordered a garage door locking handle late afternoon, and emailed Online Garage Door Spares to enquire when it would arrive. They responded immediately and advised me that they would try and process my order that afternoon. The item arrived the following morning. Very impressed.
MR. CHRISTOPHER BLOUNT
8. February, 2021.
The garage door cables that we ordered was easy to order and the delivery wa very quick . we order at 10.30 on morning and recieved them at9.30 the next morning. very please with the service, the cables were fitted the next day o very happy being able to fix it straight away.