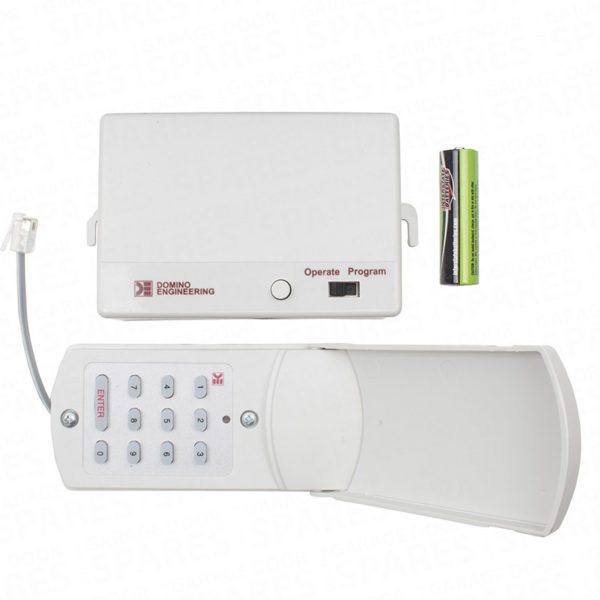 Domino Keyless Entry System
£52.20
Available
Description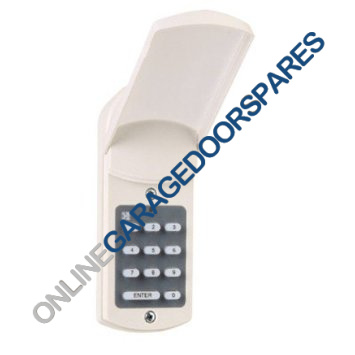 Domino Keyless Entry System
Consisting of an outside permanently mounted keypad and inside control box. the DOMINO KEYLESS SYSTEM uses a 1 to 6 digit user code. making the system as easy to program as it is to install.
Features & Benefits
Universal Use – Compatible with all garage door openers (connects to same terminals as the internal wall control pushbutton)
Easy programming – System is quickly programmed in three simple steps.
Tamper Proof – keypad shuts off for one minute after five wrong entries have been pressed.
Cutting the cable to the inside control box or "shorting" the wires will not activate the opener.
Weatherproof Flip-up Cover – Design protects the unit against the elements.
Personalised User Code – A one to six digit code may be chosen to provide up to 1.000.000 possibilities.
Back Lighting – Illuminated keypad for easy night-time operation. Additional indicator light provides verification as keys are pressed.
Low Power Warning/Battery Saver – Lights dim to indicate batteries should be replaced soon.  Special sleep circuitry conserves battery life.
Instant Stop – After code is entered and garage door opener is activated. the "enter" key may be pressed again to stop or reserve the door. without re-entering the code.  The "enter" key remains active for 20 seconds.
Additional push button conveniently located on control box allows door operation from inside garage.
Technical Specifications
Outside keypad size: Length 5″ (12.5cm): Width 2″ (5cm): Depth .6″ (1.5cm).
Inside Control Box Size: Length 3″ (7.5cm): Width 4.5″ (11.5cm): Depth 1.4″ (3.5cm)
Materials: ABS plastic; Elastomeric silicone keypad.
Electrical Input: 3 AA Duracell alkaline batteries.
Electrical Output: 1 amp dry contact relay giving a 0.3 – 3.5 second activation.
Absolutely excellent service. I ordered a garage door handle and l received it within 3 days. Highly recommend this company
Robert Dann
7. May, 2021.
Great communication, great advice, and the product was just what was required
Peter C Northampton
4. May, 2021.
After checking for spares online was not quite sure if I was ordering the right ones for my doors I got in touch with the sales team who steered me in the right direction. Parts turned up next day. Good old fashioned service what more could you want.
Carl Gibbons
3. May, 2021.
As described, good price prompt delivery. Thanks
Gerard OCONNELL
26. April, 2021.
Part supplied quickly and saved £500 on new motor.
Mrs Hickey
24. April, 2021.
The spare part arrived 3 days after I placed the order, Exactly the correct part, thought p&p was a it over the top
Mr Mike Harvey
20. April, 2021.
The plastic part which was at least 25 years old broke and after looking through their online catalogue it was in stock and arrived promptly enabling a good repair. Thanks due.
Great service, swift delivery and everything worked perfectly straight out of the box. Replacement Novoferm unit for a previous model of the same manufacturer. Slightly longer track so a little bit of adjustment but no problems. New unit is quieter and faster than the old. Simple to set up with the new fob able to map to my second door (old motor still going strong).
Perfect no problems at all easy to install job done 👍😀