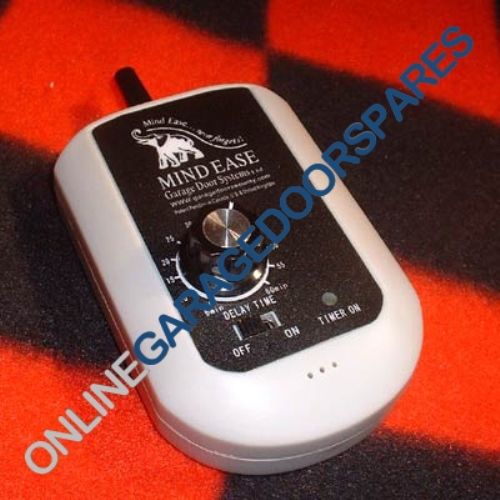 Automatic Garage Door Closing System
£71.99
Available
Description
Mind Ease Automatic Garage Door Closing System
An add on timer to auto-close your garage door.
A revolutionary device in home security. Mind Ease is a unique system that ensures additional security to homeowners who already have an automatic garage door opener.
Other security devices may provide a light on a panel indicating to someone in the house that the garage door has been left open. Only Mind Ease will close the garage door automatically without any intervention from you. whether you are at home or not.
The Mind Ease device is unique product that can be installed on to all existing automatic garage door openers and will enable you to set your automatic garage door to close automatically after a pre-set time from five to 60 minutes. You control how long you want your door to remain open before it automatically closes.
This unique device will ensure additional security to users of automatic garage door openers. All existing safety features on your garage door will not be affected and this add-on device can be safely turned off at any time. Your existing automatic door opener is 100 per cent effective as long as your garage door opener has not been instructed to stay open using the lockout switch found on some models.
Just think…..
How many times have you left for work and as you turn the corner at the end of your street…thought…did I shut the garage door? Or worse. you leave for the airport for a two-week holiday with your family and realise that you did not shut the garage door? And. when your teenager arrives home late at night…..enters through the garage door and forgets to close it? You wake up to an empty garage not to mention the possibility of strangers entering your home while you sleep!!!
Relax……with the Mind Ease Garage Door System you can rest at ease. knowing the garage door will automatically shut in minutes ensuring the safety of your family and all your personal belongings!
How it Works
The unit. which operates in conjunction with a magnetic switch. will sense when a garage door is fully opened and will cause the door to close after a pre-determined delayed time has elapsed.
Opening the garage door completely will activate the device. causing the door position sensor switch to activate. turning on the battery power supply. The relay timer will then count from five to 60 minutes depending on the time set. This will trigger your garage door to close at the preset time whilst giving an audible warning. When the door sensor loses and regains contact. it will start timing from preset time again. automatically. e.g.: if garage door is closing and a safety beam was broken. garage door would reverse. return to open position and the timer would start again.
This device can only be installed as an add-on to an existing automatic garage door opener. It should not be installed unless the existing installation has either photocells or a safety edge fitted.
These devices are optional extras on current models of automatic garage door openers and it is therefore unlikely that they will be found on older models.
This unit also can be completely shut off when required. It has a LED light. which will flash when unit is on and device is working. The unit`s power source is a nine-volt alkaline battery (included).
Mind Ease is easy to install — you can have it up and running in approximately 15 minutes.
Sarah Thorneycroft
15. February, 2021.
Fast service, would use again
John Blair
13. February, 2021.
As described, parts worked, reasonable value
Richard
12. February, 2021.
Excellent service and delivered on time. I didn't speak to the staff as the website explained in detail all I needed to know.
Christopher Thomas
12. February, 2021.
Very pleased with major repair to fix broken spring. All parts fitted and instructions easy to follow. Door now operates like new
Gary Morris
12. February, 2021.
Great service all round. Easy ordering process. Quick delivery.
Avril Perriman
12. February, 2021.
Excellent service. Answered my query promptly and recommended the part we needed. Ordered and paid very easily with part being received the next day. Would certainly use again if needed.
Brian 70+years
9. February, 2021.
Hi I couldn't fault my experience from start to finish excellent speedy and would certainly use again ⭐️⭐️⭐️⭐️⭐️
Kostas Christou
8. February, 2021.
I ordered a garage door locking handle late afternoon, and emailed Online Garage Door Spares to enquire when it would arrive. They responded immediately and advised me that they would try and process my order that afternoon. The item arrived the following morning. Very impressed.
MR. CHRISTOPHER BLOUNT
8. February, 2021.
The garage door cables that we ordered was easy to order and the delivery wa very quick . we order at 10.30 on morning and recieved them at9.30 the next morning. very please with the service, the cables were fitted the next day o very happy being able to fix it straight away.