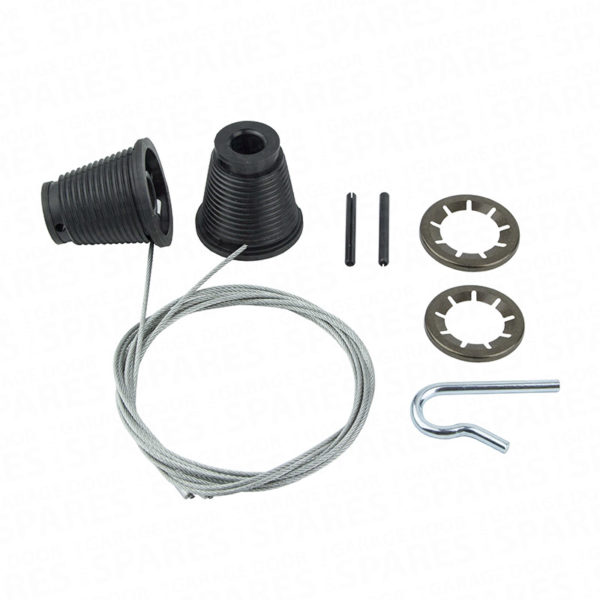 Pattern Cones and Cables – Compact Gear
£10.00
Cardale cables
Suits Compact gearing
Pairs
Available
Description
Pattern Cones and Cables – Compact Geared Doors
A pair of premium quality cones and cables to suit all Cardale compact torsion sprung canopy doors. These garage doors are easily identified as they have the spring mounted in a casing on the back of door. below centre. instead of overhead as on other torsion sprung canopy doors.
Our cones are made to match the original part and should not be compared to inferior "generic" products available elsewhere.
Supplied in pairs including roll pins. star washers and tension retaining pin.
Gerard OCONNELL
26. April, 2021.
Part supplied quickly and saved £500 on new motor.
Mrs Hickey
24. April, 2021.
The spare part arrived 3 days after I placed the order, Exactly the correct part, thought p&p was a it over the top
Mr Mike Harvey
20. April, 2021.
The plastic part which was at least 25 years old broke and after looking through their online catalogue it was in stock and arrived promptly enabling a good repair. Thanks due.
Great service, swift delivery and everything worked perfectly straight out of the box. Replacement Novoferm unit for a previous model of the same manufacturer. Slightly longer track so a little bit of adjustment but no problems. New unit is quieter and faster than the old. Simple to set up with the new fob able to map to my second door (old motor still going strong).
Perfect no problems at all easy to install job done 👍😀
Geoff Feldwick
13. April, 2021.
Answered my online question promptly and fully. Used free standard delivery which was delivered the next day after ordering. Great service, highly recommended
Mr Colin Gibbard
8. April, 2021.
Efficient service and order arrived promptly. The only area that could be criticised was the lack information regarding expected delivery date.
Stuart Lee
8. April, 2021.
Great product ,great price , great service , Thank you
Alistair Thompson
6. April, 2021.
Easy process throughout. Website easy to use , clear description, no fuss ordering process and delivered quicker than expected!