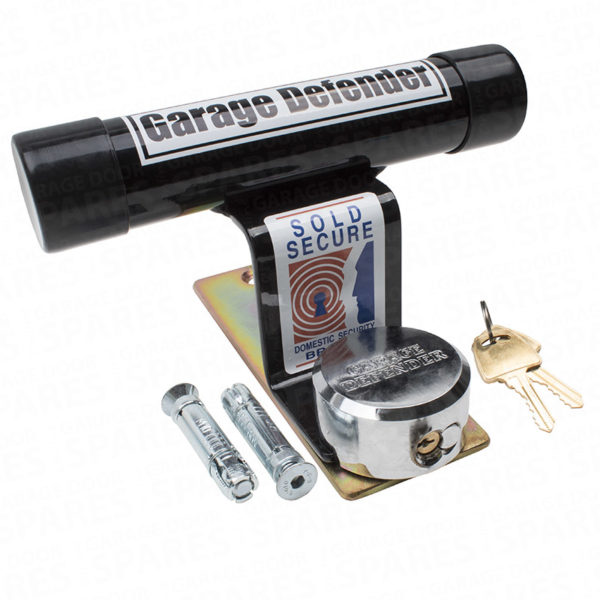 Garage Defender Master (Black)
£78.00
Available
Description
Product Features
Lock Features
Reviews
Description
Garage Defender – Master (Black)
The Garage Defender. Master. is an effective and visual deterrent providing a high security horizontal bar located immediately in front of the garage door preventing it from being forced open and making access virtually impossible.
Supplied complete with a "Master" (hockey puck) shackles padlock. which is mounted at the front of the Garage Defender making it easier to lock and unlock during use than the standard model. whilst affording the unit the highest level of security from attack by would be intruders.
Sold secure approved product
Solid steel hardened shackles padlock
Bar unit locks onto a solid steel base with padlock
Padlock has a protected shackle
Easier to lock and unlock during use than the standard model
Simple ground fitting in front of garage door with expandable security Rawlbolts
For concrete base applications only
Use a build in concrete base for a really secure installation into tarmac drives - See product code SEC1300
Attractive green powder coated finish
Heavy construction
Easy to fit within the hour
Full fitting instructions included
Features/benefits for using master (hockey puck) shackleless padlock
1. Solid steel hardened round lock body
2. Protected shackle
3. Padlock diameter = 71mm
4. Six pin tumbler cylinder
5. Lifetime guarantee on padlock
6. High security product
7. Eliminates cutting and sawing risks
8. Maximum pick and pry resistance
9. Superior corrosion resistance
Gerard OCONNELL
26. April, 2021.
Part supplied quickly and saved £500 on new motor.
Mrs Hickey
24. April, 2021.
The spare part arrived 3 days after I placed the order, Exactly the correct part, thought p&p was a it over the top
Mr Mike Harvey
20. April, 2021.
The plastic part which was at least 25 years old broke and after looking through their online catalogue it was in stock and arrived promptly enabling a good repair. Thanks due.
Great service, swift delivery and everything worked perfectly straight out of the box. Replacement Novoferm unit for a previous model of the same manufacturer. Slightly longer track so a little bit of adjustment but no problems. New unit is quieter and faster than the old. Simple to set up with the new fob able to map to my second door (old motor still going strong).
Perfect no problems at all easy to install job done 👍😀
Geoff Feldwick
13. April, 2021.
Answered my online question promptly and fully. Used free standard delivery which was delivered the next day after ordering. Great service, highly recommended
Mr Colin Gibbard
8. April, 2021.
Efficient service and order arrived promptly. The only area that could be criticised was the lack information regarding expected delivery date.
Stuart Lee
8. April, 2021.
Great product ,great price , great service , Thank you
Alistair Thompson
6. April, 2021.
Easy process throughout. Website easy to use , clear description, no fuss ordering process and delivered quicker than expected!