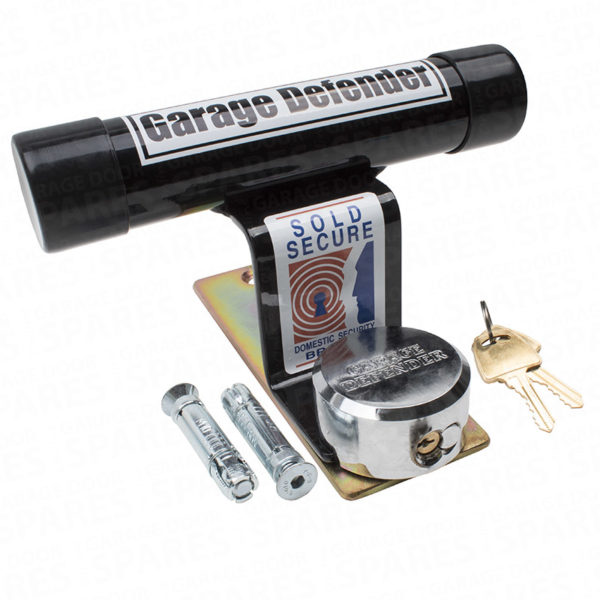 Garage Defender Master (Black)
£78.00
Available
Description
Product Features
Lock Features
Reviews
Description
Garage Defender – Master (Black)
The Garage Defender. Master. is an effective and visual deterrent providing a high security horizontal bar located immediately in front of the garage door preventing it from being forced open and making access virtually impossible.
Supplied complete with a "Master" (hockey puck) shackles padlock. which is mounted at the front of the Garage Defender making it easier to lock and unlock during use than the standard model. whilst affording the unit the highest level of security from attack by would be intruders.
Sold secure approved product
Solid steel hardened shackles padlock
Bar unit locks onto a solid steel base with padlock
Padlock has a protected shackle
Easier to lock and unlock during use than the standard model
Simple ground fitting in front of garage door with expandable security Rawlbolts
For concrete base applications only
Use a build in concrete base for a really secure installation into tarmac drives - See product code SEC1300
Attractive green powder coated finish
Heavy construction
Easy to fit within the hour
Full fitting instructions included
Features/benefits for using master (hockey puck) shackleless padlock
1. Solid steel hardened round lock body
2. Protected shackle
3. Padlock diameter = 71mm
4. Six pin tumbler cylinder
5. Lifetime guarantee on padlock
6. High security product
7. Eliminates cutting and sawing risks
8. Maximum pick and pry resistance
9. Superior corrosion resistance
Sarah Thorneycroft
15. February, 2021.
Fast service, would use again
John Blair
13. February, 2021.
As described, parts worked, reasonable value
Richard
12. February, 2021.
Excellent service and delivered on time. I didn't speak to the staff as the website explained in detail all I needed to know.
Christopher Thomas
12. February, 2021.
Very pleased with major repair to fix broken spring. All parts fitted and instructions easy to follow. Door now operates like new
Gary Morris
12. February, 2021.
Great service all round. Easy ordering process. Quick delivery.
Avril Perriman
12. February, 2021.
Excellent service. Answered my query promptly and recommended the part we needed. Ordered and paid very easily with part being received the next day. Would certainly use again if needed.
Brian 70+years
9. February, 2021.
Hi I couldn't fault my experience from start to finish excellent speedy and would certainly use again ⭐️⭐️⭐️⭐️⭐️
Kostas Christou
8. February, 2021.
I ordered a garage door locking handle late afternoon, and emailed Online Garage Door Spares to enquire when it would arrive. They responded immediately and advised me that they would try and process my order that afternoon. The item arrived the following morning. Very impressed.
MR. CHRISTOPHER BLOUNT
8. February, 2021.
The garage door cables that we ordered was easy to order and the delivery wa very quick . we order at 10.30 on morning and recieved them at9.30 the next morning. very please with the service, the cables were fitted the next day o very happy being able to fix it straight away.