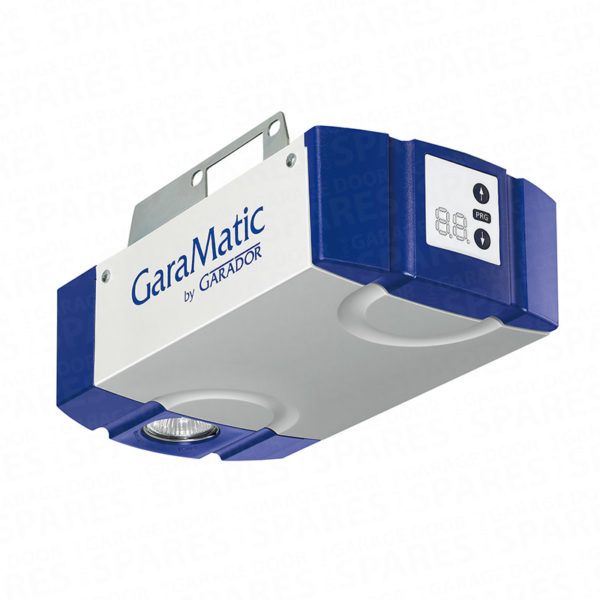 Garador Garamatic 20 Head Only
£445.20
Coming Soon!
Description
Additional Information
Reviews
Description
Garage Door Opener – Garamatic 20 Head Only
The GaraMatic 20 is a reliable and secure automatic operator that comes complete with two hand transmitters, so you can open your garage door without having to leave the comfort of your car. The bi-directional radio technology provides a more reliable signal that can be used over longer distances, allowing you to open your garage from further away. This operator complies with the latest European safety standards, is maintenance free and has a super smooth quiet door action. It is also highly secure with an integral anti-burglar device as standard. The GaraMatic 20 is perfectly matched with Garador up & over and sectional garage doors and are prepared for easy installation.
Comes with a 5 button and 2 button hand transmitter (black) as standard
50% faster than other operators with max opening speed of 22cm/ second
Half open function for ventilation
Adjustable soft start and soft stop
Automatic safety reversal
Remote status query feature indicates whether your garage door is open or closed
Bisecur technology provides a more reliable signal that can be used over longer distances. It also provides additional security ensuring no one can copy your signal
Comes with light beam as standard
Low power consumption
Garage door operator for domestic use - not suitable for commercial use!
No. of parking operations:
Max 50 door cycles (open/close) per day or 25 parking operations
Operator details:
24 V DC gear drive
Mains voltage 230 – 240 V AC, 0.2 kW
Push and pull force 750 N, peak force 1000 N
Opening speed 22 cm/s
Electronic control unit:
Microprocessor control
Automatic adjustment of safety cut-out and travel limits
Adjustable soft start and soft stop
7-segment display
Operator light and second opening height adjustable
Automatic timer adjustable
Hold-open time 10 – 180 sec after activation
Impulse control
Operator boom FS 10 (at additional cost):
Self-supporting steel boom with polyester/polyamide toothed belt
Plastic slide carriage and automatic belt tensioner
1-piece, completely pre-assembled
Operator boom FS 2 (at additional cost): As boom FS 10 but 2 piece, pre-assembled
Standard equipment:
With 5-button and 2-button Bi-directional hand transmitters
Operator lighting and second opening height
Each hand transmitter factory-coded individually from over 1 trillion combinations
Quick release operated from the inside connecting cable with CEE plug
Integral garage light with factory set 2-minute light
Radio operated
Door security kit as safety device
One-way photocell EL 101 as an additional safety device
Universal installation bracket for up-and-over doors and sectional doors
Housing:
Temperature range:
Note: One way photocell EL 101 as standard-High-speed opening.  Installation of photocell is required if automatic timer is activated
As described. Prompt delivery.
S Pritchard
11. May, 2021.
Straightforward description of item, delivered promptly. Good service.
Absolutely excellent service. I ordered a garage door handle and l received it within 3 days. Highly recommend this company
Robert Dann
7. May, 2021.
Great communication, great advice, and the product was just what was required
Peter C Northampton
4. May, 2021.
After checking for spares online was not quite sure if I was ordering the right ones for my doors I got in touch with the sales team who steered me in the right direction. Parts turned up next day. Good old fashioned service what more could you want.
Carl Gibbons
3. May, 2021.
As described, good price prompt delivery. Thanks
Gerard OCONNELL
26. April, 2021.
Part supplied quickly and saved £500 on new motor.
Mrs Hickey
24. April, 2021.
The spare part arrived 3 days after I placed the order, Exactly the correct part, thought p&p was a it over the top
Mr Mike Harvey
20. April, 2021.
The plastic part which was at least 25 years old broke and after looking through their online catalogue it was in stock and arrived promptly enabling a good repair. Thanks due.
Great service, swift delivery and everything worked perfectly straight out of the box. Replacement Novoferm unit for a previous model of the same manufacturer. Slightly longer track so a little bit of adjustment but no problems. New unit is quieter and faster than the old. Simple to set up with the new fob able to map to my second door (old motor still going strong).