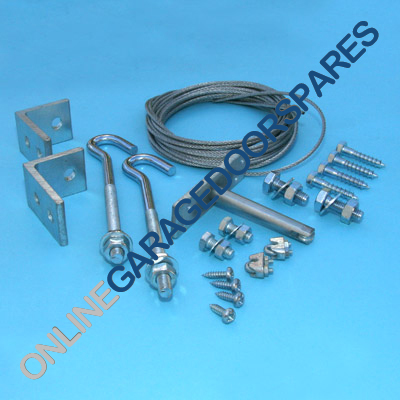 Bottom Cable Door Brace Kit for up to 20ft wide doors
£58.69
Available
Description
A cable type door brace for reducing sag in the Bottom of wooden doors up to 20 feet wide and utilising tension screws and cables. Less attractive but sometimes more effective than rigid steel braces. because tension can be adjusted from time to time if the bow increases.
A door brace is designed to reduce the gravitational bowing of garage door panels which is common when the door is in the open position. Also ideal as a preventative measure on timber doors which may over time develop a bow in the panel most usually at the bottom.
Kit comprises:
Two tension screws and brackets.
Sufficient bowden cable for a 20 foot wide door.
One central stand off cable bracket.
Cable clamps. scews. bolts and fixings.
This kit contains all you need to tension the door at the bottom of the door only. To tension the door at the top and the bottom either use two of these kits or save money by using a CPS6740 kit.