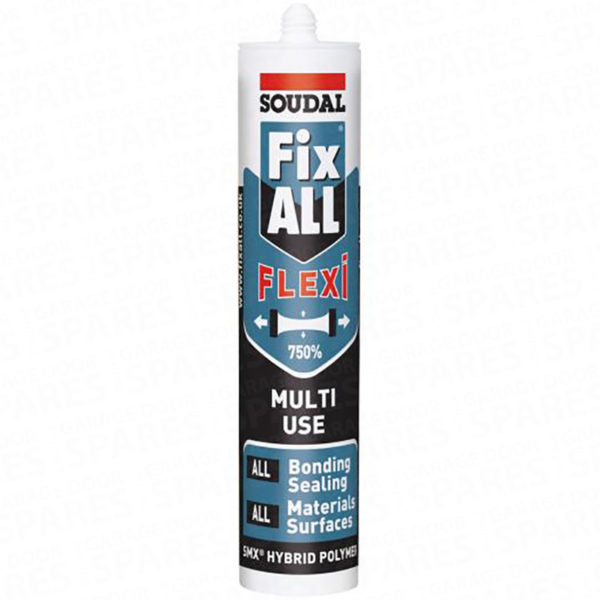 Soudal Fix ALL Flexi BLACK
£7.86
Available
Description
Benefits
Applications
Instructions
Downloads
Reviews
Description
Soudal Fix ALL Flexi BLACK
Hybrid polymer sealant adhesive.
Multi use sealant, adhesive and filler with high flexibility. Can be applied in all weather conditions. Internal and external use. Primerless adhesion on most construction materials, including wet and damp surfaces. Contains XS1 fungicides providing ultimate mould resistance.
Benefits
Multi use
Bonding and sealing applications
Highly flexible
Primerless adhesion
Mould resistant - XS1 fungicide
ALL materials, ALL surfaces (except on PE, PP and PTFE)
Non staining
Virtually odourless
Interior and exterior applications
Applications
For all bonding, sealing & filling applications. Can be used internally and externally in all weather conditions. Suitable for most materials and surfaces (porous, non-porous and wet & humid surfaces). Bonding and sealing of porous natural stone surfaces, such as marble and limestone. Sanitary sealing and bonding - kitchens, bathrooms and showers.
Instructions
Surfaces and materials should be clean and free of dust and grease. When used as adhesive: apply in beads or dots onto the material which needs to be bonded, press the material strongly onto the substrate and leave to set. When used as sealant: apply in a regular bead and smoothen immediately with Soudal Joint Finish or a soapy solution. Optimal application temperature +5°C until +25°C. Final strength will be achieved 24 hours after application.
Geoff Feldwick
13. April, 2021.
Answered my online question promptly and fully. Used free standard delivery which was delivered the next day after ordering. Great service, highly recommended
Mr Colin Gibbard
8. April, 2021.
Efficient service and order arrived promptly. The only area that could be criticised was the lack information regarding expected delivery date.
Stuart Lee
8. April, 2021.
Great product ,great price , great service , Thank you
Alistair Thompson
6. April, 2021.
Easy process throughout. Website easy to use , clear description, no fuss ordering process and delivered quicker than expected!
Parts arrived promptly, roller guides fitted well & cables correct length. Very pleased as door now operating great, thought would have needed a new door before .
Very efficient & reliable, delivery of spare quick.
James Baker
1. April, 2021.
The item I bought was correct, sent on time altogether a first class service. Thank you.
douglas howes
29. March, 2021.
Great service, the gentleman talked me through the model I needed. It arrived and tuned it into the garage door electrics easily. More Robust than the original fob. Thank you Doug.