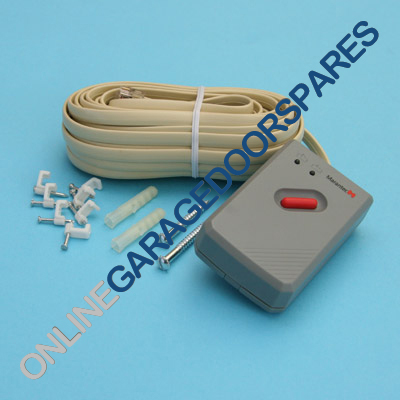 Marantec Command 105 Interior Switch (Wired)
£18.00
Coming Soon!
Description
The Marantec Command 105 is an internal wall switch for operating Marantec garage door openers from within the garage when the remote control is not available.
Activation of the garage door opener is enabled by a single impulse from the pushbutton to open the door and another impulse from the button closes the door. providing it has already opened fully.
If the garage door opener receives an impulse during opening or closing. the door will stop until a further command is received.
Supplied with a 7 metre cable fitted with telephone jack style plugs to suit Marantec openers only
Application
Impulse
With one LED each for door 'Open'/door 'Close' to indicate the door position
Impulse sequence 'Open'-'Stop'-'Close'
For all Marantec operator systems with system cabling
Package
Interior pushbutton
System cable with system plug (7.000 mm) pre-cabled
Mounting material
Technical details/specifications
Measurements (WxHxD) – 47 x 73 x 24 mm
Weight – 0.3kg
Protection category – IP 00 (only for dry premises)
Cabling – system cabling
Based on 49 reviews.
Great service, swift delivery and everything worked perfectly straight out of the box. Replacement Novoferm unit for a previous model of the same manufacturer. Slightly longer track so a little bit of adjustment but no problems. New unit is quieter and faster than the old. Simple to set up with the new fob able to map to my second door (old motor still going strong).
Perfect no problems at all easy to install job done 👍😀
Geoff Feldwick
13. April, 2021.
Answered my online question promptly and fully. Used free standard delivery which was delivered the next day after ordering. Great service, highly recommended
Mr Colin Gibbard
8. April, 2021.
Efficient service and order arrived promptly. The only area that could be criticised was the lack information regarding expected delivery date.
Stuart Lee
8. April, 2021.
Great product ,great price , great service , Thank you
Alistair Thompson
6. April, 2021.
Easy process throughout. Website easy to use , clear description, no fuss ordering process and delivered quicker than expected!
Parts arrived promptly, roller guides fitted well & cables correct length. Very pleased as door now operating great, thought would have needed a new door before .
Very efficient & reliable, delivery of spare quick.
James Baker
1. April, 2021.
The item I bought was correct, sent on time altogether a first class service. Thank you.