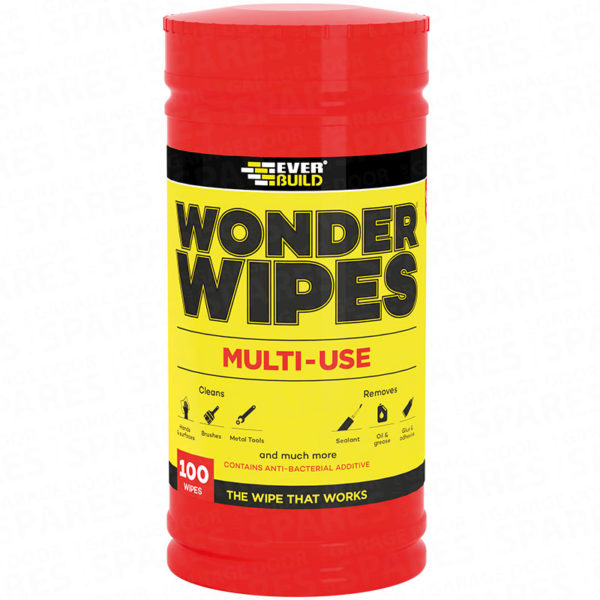 Everbuild Wonder Wipes – Multi-Use
£5.94
Removes finger marks, dirt, grime, oil, grease, petrol, inks, food stains, part-cured sealant and paint smears
Available
Description
Additional Information
Downloads
Reviews
Description
Everbuild Wonder Wipes Tub of 100 Wipes – Multi-Use
Multi-Use Wonder Wipes have become the first-choice wipe of the nation's builders and tradesmen. Specially formulated to clean hands, tools and surfaces from wet and semi-cured paint, sealant, adhesive, bitumen, expanding foam, oil, grease and even silicone. Particularly useful when there is no water on site.
Contains an anti-bacterial additive that is tested by an independent laboratory to BSEN 1276 for chemical disinfectants and antiseptics
Removes finger marks, dirt, grime, oil, grease, petrol, inks, food stains, part-cured sealant and paint smears
Pack Size: 100 wipes
Uses
Cleaning wet and semi-cured paints, sealants, adhesives, bitumen, polyurethanes, expanding foams, polyester fillers and epoxies from hands, tools and surfaces.
Removes finger marks, dirt, grime, oil, grease, petrol, inks, food stains, part-cured sealant and paint smears.
Everbuild Wonder Wipes Multi-Use anti-bacterial, tested by an independent laboratory to BS EN 1276 chemical disinfectants and antiseptics.
Application Instructions
Pull off lid and open closure. Find start wipe in centre of roll. Pull out approx 1 foot of wipes and thread through lid. Replace lid immediately and reseal closure.
Limitations
Do not use on porous surfaces such as untreated wood
Do not dispose of wipes in toilets
Use only as directed
Store only in original container
As with all detergents, people with sensitive or damaged skin should avoid prolonged contact with skin
It is the user's responsibility to determine suitability for use
Gerard OCONNELL
26. April, 2021.
Part supplied quickly and saved £500 on new motor.
Mrs Hickey
24. April, 2021.
The spare part arrived 3 days after I placed the order, Exactly the correct part, thought p&p was a it over the top
Mr Mike Harvey
20. April, 2021.
The plastic part which was at least 25 years old broke and after looking through their online catalogue it was in stock and arrived promptly enabling a good repair. Thanks due.
Great service, swift delivery and everything worked perfectly straight out of the box. Replacement Novoferm unit for a previous model of the same manufacturer. Slightly longer track so a little bit of adjustment but no problems. New unit is quieter and faster than the old. Simple to set up with the new fob able to map to my second door (old motor still going strong).
Perfect no problems at all easy to install job done 👍😀
Geoff Feldwick
13. April, 2021.
Answered my online question promptly and fully. Used free standard delivery which was delivered the next day after ordering. Great service, highly recommended
Mr Colin Gibbard
8. April, 2021.
Efficient service and order arrived promptly. The only area that could be criticised was the lack information regarding expected delivery date.
Stuart Lee
8. April, 2021.
Great product ,great price , great service , Thank you
Alistair Thompson
6. April, 2021.
Easy process throughout. Website easy to use , clear description, no fuss ordering process and delivered quicker than expected!